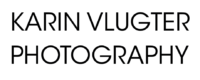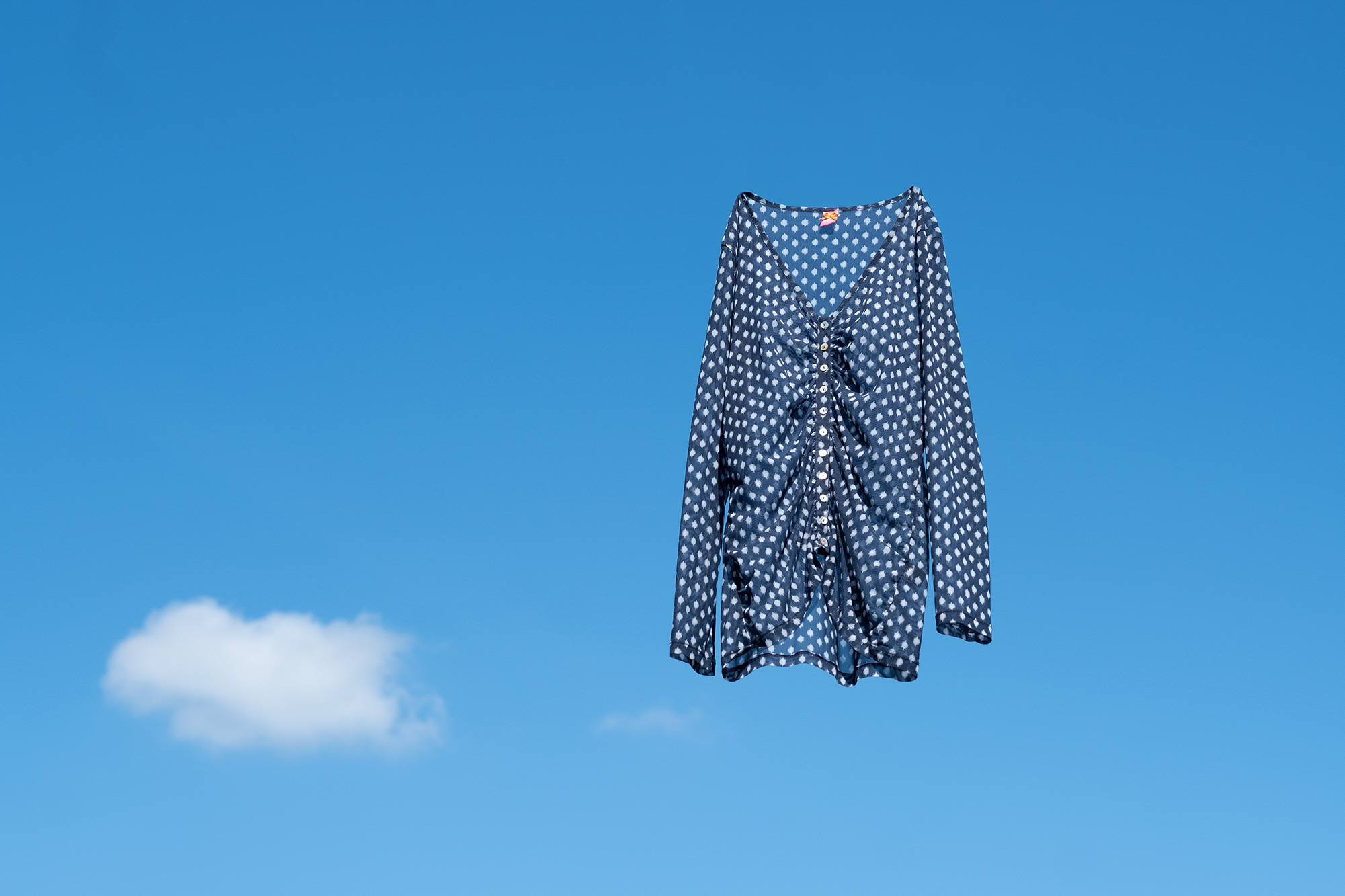 Lucht, licht en gemis in het voorjaar van 2020
In het voorjaar van 2020 heb ik gevraagd of de mensen van wie ik hou mij hun favoriete kledingstuk wilden uitlenen, zodat ik dat kon fotograferen. Om het gemis aan hun nabijheid een beetje te compenseren. Een kledingstuk is je tweede huid, de ruimte waarin je leeft. Kleding hoort bij wie je bent. Favoriete kleding in het bijzonder. Mijn vrienden begrepen meteen wat ik bedoelde. De pakketjes en  tasjes met favoriete items stroomden binnen. Dat was al bijzonder. Zonder op de afzender te letten wist ik negen van de tien keer van wie het kledingstuk was. Ik had hem of haar er al heel vaak in gezien, we hadden de favoriet soms zelfs samen gekocht  of gemaakt, of kledingstuk en eigenaar pasten gewoon bij elkaar. Best veel kledingstukken waren al oud en versleten, soms met de gaten erin. Zo'n kledingstuk dat je eigenlijk weg zou moeten gooien, iets wat je natuurlijk nooit doet. Vaak hoorde er een verhaal bij het kledingstuk. De jurk die eigenlijk te klein was, maar te mooi om niet te kopen en die nu al twintig jaar met veel plezier in de kast hangt. Dat coole vest dat die ene actrice ook altijd droeg. Of 'de trui van mijn opa'.
Het klinkt misschien raar maar de afstand die we dit voorjaar tot elkaar moesten houden leek voor mij kleiner te worden. Zeker toen ik ging fotograferen met de lucht boven mijn balkon als prachtige, elke keer net iets andere achtergrond. Dit voorjaar bijna voortdurend strak blauw en helder, maar ook leeg. Geen kledingstuk was hetzelfde, ze waren tenslotte allemaal van iemand anders. Ik wilde iets van iedere eigenaar proberen te vangen in het beeld. Soms van dichtbij, soms van verderaf, met slechts een paar dunne draadjes opgehangen of met een heel netwerk. De zon zorgde voor het juiste licht. Steeds hogere installaties bouwde ik om de ruimte, de eenzaamheid te kunnen fotograferen.
Het voorjaar 2020 is nu vertrokken en met alles wat er gebeurd is hoeft het van mij niet meer terug te komen. De foto's zijn gemaakt. Ik ben er blij mee. De kleding is weer terug waar ze thuishoort. Op twee favoriete kledingstukken na. De post vanuit Duitsland is hier nog niet aangekomen. Ik hoop op een wonder.
Karin
Blue skies, sunlight and absence during spring 2020
This is spring I asked the people I love, to send me their favourite piece of clothing, so I could take a picture of their precious second skin and would miss them less. As clothes are the space we live in and define our character. My friends had understood my request immediately, because my mailbox flooded within days. Without paying attention to the sender, I knew exactly which garment belonged to whom. Sender and piece were a perfect match to me. The pieces of clothing also brought back fond memories of buying or sewing the garment together and I had seen my friends wearing their treasured garments myself.
Besides, the sometimes old, ripped, worn-out clothes had a story to tell. A friend gave me a dress which had always been too tight, but she could not resist buying and which she kept in her closet for more than twenty years. I was sent a cardigan, which was special because it looked similar to the one of an admired actress, while another friend handed me her grandfather's jumper. 
It might sound strange but this project made me feel less distant to my loved-ones. It was very special to photograph all their clothes on my balcony against the often sleek blue sky, so typical for this spring. None of the garments were the same, as they all belonged to different people. I wanted to capture the owner's personality. Sometimes I stayed close to the special pieces of clothing, while others needed a broader perspective. The sun supplied the right light.  
In order to capture the solitude of this last spring, I had to build higher installations. Garments floated through the air, waved in the breeze and sometimes even drifted away into our neighbours' backyard. Luckily they were always returned, so I could resume my work. 
Although I am glad this spring has ended and I wish it never to come back, I am happy with the pictures I took. The clothes are returned to their proper owners, except for the two pieces the postman did never deliver. I hope for a miracle to happen. 
Karin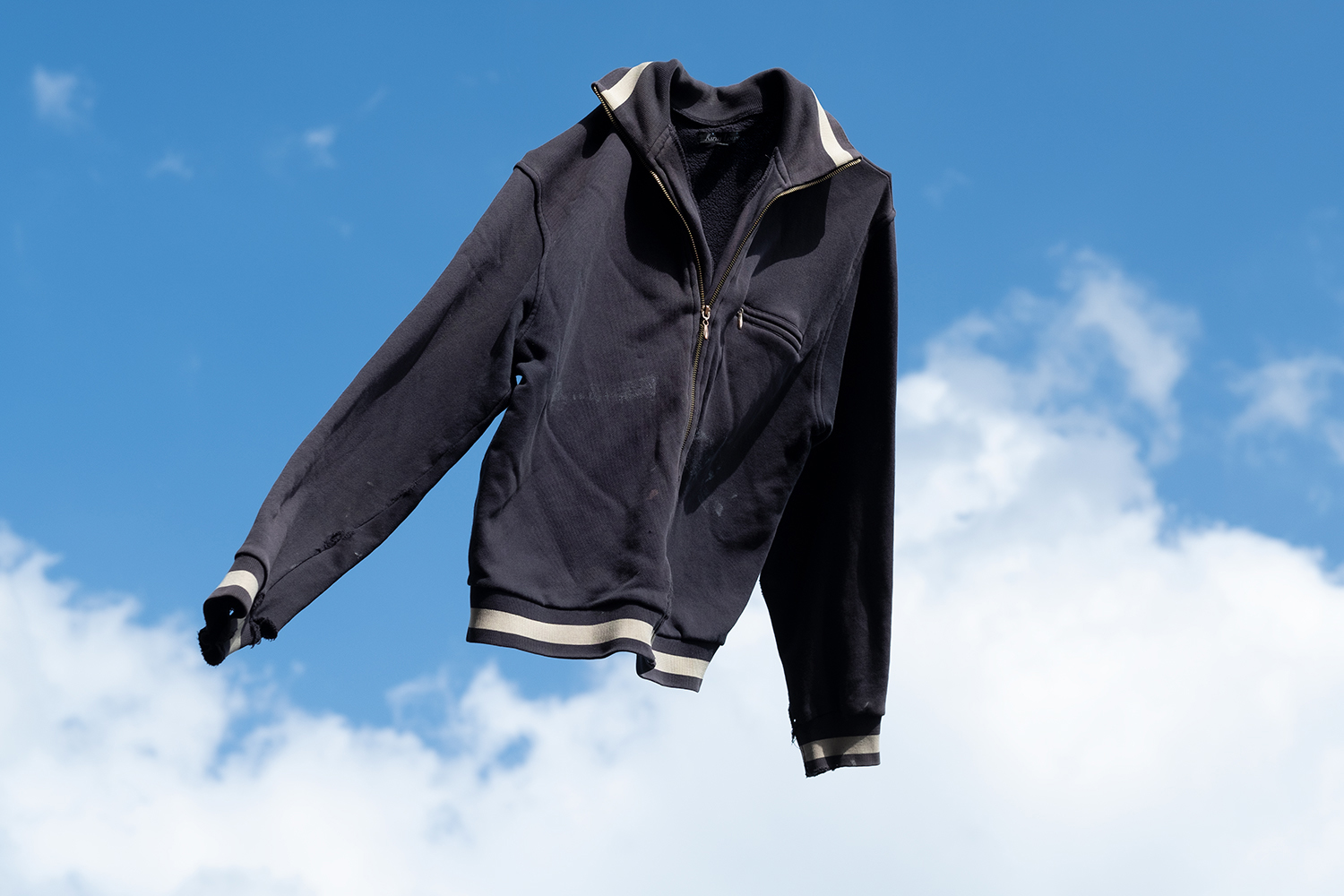 Exposities 'Lucht, licht en gemis in voorjaar 2020:
1 september – 23 oktober 2020  in de Zocher- en Hekmanfoyer in de Stadsschouwburg Utrecht
23 oktober 2020 – half mei 2021 Groepspraktijk Huizen
3 september – 30 september 2021 Stadskantoor Utrecht
De afbeeldingen zijn te koop in verschillende formaten in oplage van 5 plus 1 AP.